---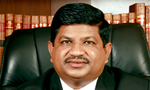 The Police Financial Crimes Investigation Division yesterday quizzed Deputy Minister of Plantation Industries Lakshman Wasantha Perera over a major Ethanol smuggling ring that also saw the alleged involvement of a former senior minister in the UPFA government.
The Deputy Minister who arrived at the FCID office yesterday morning was questioned for over two hours after which a statement was recorded.
According to FCID sources the Matale District Parliamentarian was quizzed about a stock of 60, 000 litres of Ethanol imported into the country from 2012 to 2014 by producing forged documents.
The Ethanol had been imported in the guise of being used to manufacture air fresheners but evidence had emerged to show that it had actually been used to produce alcohol.
The FCID had leant that the stock of Ethanol imported into the country had been sent to a leading liquor distillery in the North Western Province belonging to a former Cabinet Minister of the Mahinda Rajapaksa government.
The police had also found that the contraband had been transported to the said distillery from the Colombo Port in lorries belonging to the Cooperative Wholesale Establishment (CWE).
The sources said that they are currently recording statements from the persons involved in what has now been found to be a major Ethanol scam and said they were also trying to ascertain the degree of involvement of the former minister in the scam.
Meanwhile, two sons of the former minister were also summoned by the FCID to record a statement regarding the same scam, the sources said. (Kurulu Koojana Kariyakarawana)