---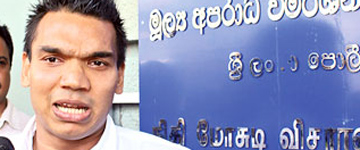 The FCID-on a directive of Attorney General had today named Namal Rajapaksa and five others as suspects over purchasing shares of Hello Corp. using ill-gotten funds of Gowers Corporation, which is headed by Mr. Rajapaksa.
The FCID filing a B report informed court that the suspect Namal Rajapaksa had dealt with a company named Boston and had given Rs. 15 million and another Rs.30 million through one Indika Karunajeewa to the Chairman of that company, Mr. Rohan Abey Iriyagolla.
Then according to the statements got from the chairman of the Boston Co., the given money was paid to Gowers and NR Consultants again, which are headed by Namal Rajapaksa, as payments for the services obtained by Boston.
The two transactions were found by the prosecution as offences that fell under the Money Laundering Act.
The other suspects, Indika Prabath Karunajeewa, Pavithra Sujani Bogollagama, Nithya Senani Samaranayake, Sudarsha Bandara Ganegoda and Iresha Silva were named as suspects over conspiring to commit the offences that fell under the Money Laundering and the Penal Code, by the FCID.
Acceding the prosecution request, Additional Magistrate Nishantha Peiris issued an arrest warrant on second suspect Indika Karunajeewa, since the suspect currently resides abroad, absconding the prosecution.
The Magistrate had also observed that the prosecution has the authority to arrest suspects under the Money Laundering Act without further permission from the court.
The FCID also said court that the prosecution would file two cases separately over the alleged two transactions against the suspects.
Further inquiry was postponed to September 1. (Shehan Chamika Silva)