---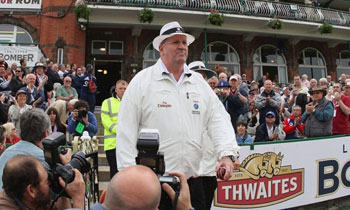 Former umpire Darrell Hair, best known for calling legendary Sri Lankan spinner Muttiah Muralitharan for throwing during a 1995 Boxing Day Test – stole more than $9000 from a bottle shop he was working at in Orange, in central west New South Wales.
The theft occurred from February and April this year and was discovered when CCTV footage caught him taking money from the till and placing it in his pocket.
Magistrate Michael Allen said the charges marked a "monumental fall from grace" for Hair – who officiated in 78 Test matches and 139 one-day internationals.
Hair blamed a gaming addiction for the theft but admitted his responsibility, repaid the money and wrote letters of apology, the magistrate said.
Allen also said Hair was seeking counselling for depression and addiction.
Hair's solicitor, Andrew Rolfe, dubbed the theft as an "aberration".
"My client has been in the public eye for many years and this is a bit of a fall for him, to find himself before the court in these circumstances," Rolfe said.
"This is an aberration in the life of a man who, prior to this, had a lifetime of service to the community and to a sport that he loved."
A fact sheet tendered to court added that Hair, "stated that he had no excuse for his dishonesty and he had let his gambling get too far out of control during the early months of 2017 and failed to react to the signs that it was out of control".
Hair was sentenced to a 18-month good behaviour bond but a conviction was not recorded.
Hair, who also umpired domestic cricket in Australia, was a promising young cricketer in his own right, playing grade cricket in Sydney.
But a knee injury prematurely ended his career and saw him take up umpiring.
He also officiated in Test cricket's first ever forfeit, when Pakistan decided to stop playing in a 2006 Test against England at The Oval.
Hair and fellow umpire Billy Doctrove gave Pakistan a five-run penalty for ball tampering and, after a delay, the incensed Pakistanis refused to go back on the field. (The New Daily)