---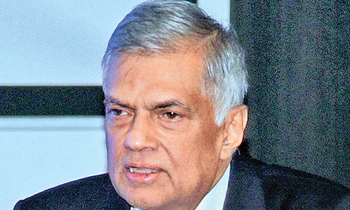 Prime Minister Ranil Wickremesinghe said today the climate change crisis calls for a long-term solution and that the decision to supply essential items at a subsidized prices would be extended till National New Year in 2018.
He said this at the opening of the new bus stand in Gampaha Town this morning.
"The expected rains in November and December were inadequate. Therefore crop harvests will be low next year. I and the President met the ministerial committee on the cost of living. We invited private sector representatives as well. We did so because the government does not have an adequate machinery to cover all areas geographically. We decided to provide rice, dhal, sugar, potatoes, onions, sprats and long beans at subsidized prices. The rates will be decided on the landed price," the Prime Minister said.
"We as a government strive towards resolving the issues faced by this government. One of the major issues faced by the people today is the high cost of living. Prices of essential goods have risen rapidly. There is a crisis with regard to climate. We have not received monsoon rains on time. This has affected the cultivation of food crops. Some farmers kept away from cultivating because of the drought. We do not know whether the climatic changes would create a long term issues. As a precaution for this crisis of price hike, the government has decided to provide essential items at subsidized prices till the national new year. High prices of rice, coconuts and vegetables is a major issue. The government is fully aware of it. It is essential to resolve this matter as soon as possible."
He said the decision on extending the concession scheme would be decided in April next year after assessing the situation taking into account climatic changes.
"We will decide on the next step in April as it would be possible to make a fresh assessment on the climate at that time. Several key private sector organizations will also play a role in providing essentials at a subsidized prize. Private sector suppliers of essential goods have said they would be able to implement the new scheme in two week's time," the Prime Minister said."
Megapolis and Western Province Development Minister Patali Champika Ranawaka said the present government was making an effort to make development beneficial to the people. "Development becomes effective when it brings benefits to the people. There is no point in constructing ports and airports if they do not bring any economic benefit. Development should not burden the economy as it did in the past where large commercial borrowings were made for projects. Development should not benefit individuals," he said.
MP Ajith Manappaeruma said there were several development projects to be undertaken in Gampaha such as relocating the police station and constructing a public park. (Yohan Perera and Tilakaratne Dissanayake)