---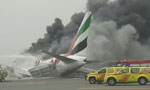 An Emirates passenger jet has crash landed at Dubai Airport this morning before exploding into a massive fireball on the runway.
Thick black smoke could be seen rising over Dubai International Airport after an Emirates Boeing 777, carrying 282 passengers and 18 crew was forced into an emergency landing at around 12.45pm local time.
There are reports the landing gear for the plane, which had flown from Trivandrum International Airport in India, may not have come down fully prior to touching down. Other reports claimed the engine on the right side caught fire and fell off while landing.
Dramatic footage shows the aircraft exploding in a fireball on the runway, with the force of the blast throwing a huge metal panel from the plane into the air. Separate video captures the moment it scrapes along the runway before coming to a halt in a cloud of smoke.
Incredibly, all passengers were reportedly evacuated safely within 45 seconds of landing before the plane was engulfed in flames.
Photographs of the incident showed a plane lying crumpled on its belly on the tarmac with black smoke pouring from its upper section.
The captain is believed to have sent out and emergency signal in the moments before the plane was preparing to land.
A pilot who witnessed flight EK521 landing told NDTV the plane came in 'really hard' and hit the 'runway tail'. A passenger on another plane said she could see emergency chutes deployed.
All flights to the Dubai terminal have been diverted while emergency crews work at the scene. All take-offs and landings have been suspended.
Chris Galusha landed at Dubai Airport just 25 minutes before the plane crash landed, which has caused four to five hours of delays.
'The board is slowly updating major delays. Cannot see anything from terminal at this time,' he tweeted MailOnline, alongside a picture of the departure screen showing all flights as delayed.
'Airport is quiet right now. Calm before storm before people deplane,' he tweeted.
In one video posted online a woman with a British accent can be heard gasping as she watched from the terminal.
'Are there people in that plane? Oh my god, the smoke's getting darker,' she says.
Emirates said in a statement: 'Emirates can confirm that today, August 3 2016, flight EK521 travelling from Trivandrum International Airport in Thiruvananthapuram, India to Dubai has been involved in an accident at Dubai International Airport. There were 282 passengers and 18 crew on board.
'The Boeing 777 aircraft, departed at 10.19am from Trivandrum International Airport and was scheduled to land at 12.50pm at Dubai International Airport.
'We can confirm that there are no fatalities among our passengers and crew. All passengers and crew are accounted for and safe.
'We are expecting a four-hour network wide delay, more information will be available on the Emirates website and social media channels.'
The Dubai government's official media office said: 'All passengers were evacuated safely and no injuries have been reported so far.
'Concerned Authorities at Dubai International Airport are dealing with the incident at the moment to ensure safety of all.'
Planemaker Boeing said in a statement it was monitoring the situation in Dubai and it would be working with Emirates to gather more information.
Meanwhile, the pilot and crew have been roundly praised for landing the plane, with initial reports suggesting the pilot asked the airport for permission for a crash landing.
'Emirates pilot looks like he expertly landed the 777, and although there was a fire, still was time for pax [sic] to exit, get away,' Tweeted US-based journalist and aviation blogger Gerry Doyle.
And an Indian journalist for ABP news wrote: 'Passengers on board Emirates flight almost kiss & survive death..Pilot deserves all praises to have managed to save so many lives.'
Also praising the pilot from India, where the flight originated, was Bollywood star Pushkar Jog, who said: 'Emirates EK521 flight crashes after landing at d Dubai airport . Pilot saved 282 lives ..All passengers safe.'
Dubai International is by far the Middle East's busiest airport, and is the world's busiest air hub in terms of international passenger traffic.
Government-backed Emirates is the region's biggest carrier, and operates the world's largest airline fleet of the wide-body 777 long-haul aircraft.
The incident comes almost four months after a plane belonging to Dubai's other carrier, flydubai, crashed and burst into flames as it was landing in Rostov-on-Don, in southern Russia, killing all 61 people onboard.
On July 26, an Emirates Boeing 777-300 aircraft heading to the Maldives made an emergency landing in Mumbai because of a 'technical fault'.
Dubai International is the world's largest hub in terms of international passengers, and is the base for Emirates, from where it serves more than 153 destinations.
Emirates, Qatar Airways and Abu Dhabi's Etihad have seized a significant portion of transcontinental travel, capitalising on the geographic locations of their Gulf hubs.
Emirates is the largest single operator of the Boeing 777, as well as the Airbus A380 superjumbo, and has expanded its fleet to 250 aircraft last year.
Thiruvananthapuram is the capital of the southwestern Indian state of Kerala, a popular beachside tourist destination. Many blue-collar migrant workers employed in the United Arab Emirates and other Gulf nations come from Kerala. (Daily Mail)