---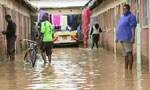 The death toll, in the floods, landslides and strong winds that have ravaged the country during the past few days, has risen to eight leaving some 207, 500 people from 47, 922 families badly affected, the Disaster Management Centre (DMC) said.
DMC Spokesman Pradeep Kodipili said they had so far relocated 134, 466 people from 29, 004 families.
Meanwhile, nine people were injured while the whereabouts of eight others are not known.
The Army and the Police are carrying out search operations to find those gone missing.
Mr. Kodippili said the DMC was providing food, drinking water, medicine and sanitary facilities to those who have been re-located. (Piyumi Fonseka)