---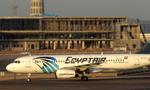 An EgyptAir flight reported missing between Paris and Cairo has crashed, French President Francois Hollande confirmed.
The Airbus A320 with 66 people on board disappeared from radar at 02:30 Cairo time (00:30 GMT), soon after leaving Greek airspace.
Greece's defence minister says Flight MS804 made "sharp turns" and plunged before dropping off the radar.
A major search is under way in seas south of the Greek island of Karpathos.
Greek and Egyptian armed forces are involved in the effort, and France has offered to send boats and planes.
Mr Hollande said he was keeping an open mind about the cause of the crash.
"We will draw conclusions when we have the truth about what happened," he said.
"Whether it was an accident, or whether it was - and it's something that is on our minds - terrorism."
There were 56 passengers - including three children - seven crew members and three security personnel on board. They included 30 Egyptians, 15 French citizens and a Briton. (BBC)