---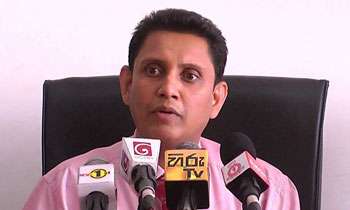 The GMOA said today Finance Minister Mangala Samaraweera was silent when economic experts had predicted well in advance about a rupee depreciation and the economic crisis.
Its Secretary Haritha Aluthge said the MPs had requested people to tighten their belts while they continued to enjoy luxury lifestyles.
"Amid an economic crisis, the provincial councils are enacting dramas with unnecessary expenses. The subject minister did not take any preventive measures even when advised by the experts. It is unfair to heap this burden on the people," he said.
Dr. Aluthge said the duty free vehicle permits for MPs' cost some Rs.7 billion each year.
He said though the Finance Minister had suspended the issuance of duty free permits to MPs, by then most of them had purchased vehicles or sold their permits.
Meanwhile, GMOA Assistant Secretary Samantha Herath said the country's economic management had broken down.
"On the one hand the Government is calling for the restriction on the import of luxury consumer goods, but on other hand they are importing services, which contribute to more than 56 per cent drain on the country's economy, through FTA's with Singapore and Thailand," he said.
Dr. Herath claimed that when professionals speak of the economy they were criticized.
"Today the citizens are suffering from the consequences of economic mis-mangement and the failure to draft a national policy," he said. (Thilanka Kanakarathna)