---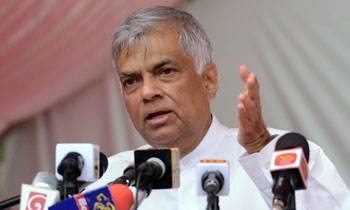 The ongoing drought could affect the whole country especially if the paddy production goes down by 50 per cent, Prime Minister Ranil Wickremesinghe said yesterday.
The Premier made this statement at the unveiling of the pinnacle at the Sri Mamgalarama Temple in Galnewa last evening.
"There is a drought prevailing in the country at the moment. It has not affected this area alone as it could create a negative effect on the whole of Sri Lanka. It could make the paddy production go down by 50 per cent. Rice mills have to be closed down if that happens," the premier said.
He said the government had decided to go ahead with the Malwathu Oya project as per the request that has been made by the SLFP. "I had a discussion with Minister Duminda Dissamayake on the matter and he asked me whether there would be funds available to start the Malawathu Oya project and I said funds would be available. Therefore we will implement it soon " he said.
Further Mr Wickremesinghe said the excavation of historical Maha Vihara in Anurdhapura will begin soon and the temple will be relocated temporarily until the excavation and restoration is completed. Also he said Sri Lanka would make a significant doantion for the excavation and restoration of Kapilawasthu and Lumbini. Accordingly the premier said Sri Lanka would donate US dollars one million for it. He said this would be given with the savings that will be brought about with the signing of the Hambantota port agreement. "We would not have been able to engage in this meritorious deed if the government did not sign the Hambantota port agreement" the Prime Minister said.
Minister Dissanayake said he was happy to see the people of Galnewa getting together to develop the Mangalarama temple . "People living in areas such as Galnewa will always safe guard Buddhist temples" he said. (Yohan Perera in Galnewa)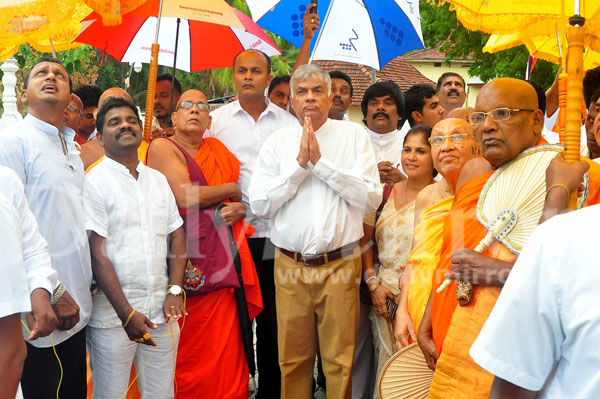 Pic by Pradeep Pathrana