---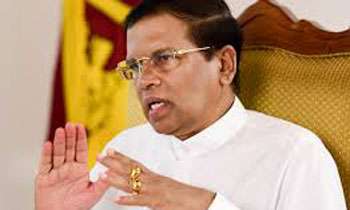 President Maithripala Sirisena today said he made a humble appeal from the friends of the media not to shed tears after attacking, weakening and destroying the government by way of destroying the enabled democracy and media freedom in the country.
The President said he was making this request from the media institutions which did not give a proper coverage to the government but obstructed it.
Addressing the 'Water Filling Ceremony of the 'Moragahakanda – Kaluganga Reservoir' at Laggala, he added that when the people watched private TV channels, in the afternoon, they were compelled to feel that there was no government, there was no administration, no law and order and no governance but only misery, mayhem and sufferings.
"Both, the print and electronic media in the private sector in many instances used an unimportant but sensational statement of a politician or top government official - in many instances a slip of the tongue - to attack the government and its action. What they try to depict is that this government has done nothing for the people. But I request you, not to forget the freedom, dignity, self-respect we gave you after January 8, 2015. I never ask you to take the government's side but tell the truth. Show the truth and print the truth. Don't forget that you give publicity to all these negative and malicious comments against the government while enjoying the independence, democratic rights and dignity this government restored for you," President Sirisena emphasized.
He said the private media has hopelessly failed to give a glimpse of good deeds of the unity government to the people. (Sandun A Jayasekera)