---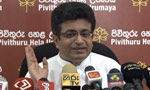 While criticizing the controversial statement made by Prime Minister Ranil Wickremesinghe in Kandy on Saturday, regarding certain media personnel, Opposition MP Udaya Gammanpila today said the Prime Minister should not play with fire.
Speaking at a media briefing, MP Gammanpila said Premier Wickremesinghe would soon learn a lesson from media personnel if he goes ahead with his decision to teach a lesson for certain print media institutions.
"I would like to remind him that the politicians who attempted to teach lessons for journalists had to end up with learning very good lessons for life. So, we are warning the Prime Minister, do not ask for troubles by playing with fire," he said.
He went on to say that the role of media which is reporting occurrences and events of the country should not be prevented by any means.
Adding to that, he said if the country is already facing a chaotic situation, reporting of day-to-day happenings of the country undoubtedly raises the opposition of the people.
Therefore, the government's attempt to criticize or remove journalists who report the incidents, which impact the government, is futile.
Instead of that, it is better for the government to detect their weaknesses and take measures to correct them, he said.
"Media do not produce news. What they do is reporting. It is a responsibility of the government to work in a way the people are satisfied and as a result of that the media will have good things to report. The fault is with the government, not with media or the people," MP Gammanpila said. (Piyumi Fonseka)
Video by Janaka