---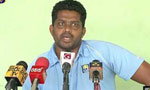 Sri Lankan all-rounder Dilhara Lokuhettige has decided to bring down the curtains on his One Day Internationals (ODI) and Test career, citing that he looks to resume his cricketing career in Australia. The decision was made public at a press conference held at the Moors Sports Club premises yesterday.
Lokuhettige, 34, represented Sri Lanka in only 9 ODIs but has a more illustrated career in domestic first class cricket, having played close on to 150 matches. During this time period he has scored 5464 runs while claiming over 350 wickets.
He stated that he had been invited to play in Australia and because the Sri Lankan Cricket (SLC) wasn't showing any signs of recalling him, he decided to retire from International cricket. "I am invited to play for a district Twenty20 team based in New South Wales, Australia. I'm hoping to revive my career there. I haven't ruled out playing Twenty20 cricket for Sri Lanka and I'll always be ready to play if my services are needed," he said.
The once aggressive all-rounder had been subjected to injuries, but having had a good first class career, he cites that he had been overlooked by the selectors for unknown reasons. "After the 2013 tri-nation series, I wasn't called up. Although I had a fairly good record in first class cricket, I was denied of a chance for playing for the country. I believe that I could've done way more for Sri Lanka if I had been given the chance," he said.
Speaking further he said, "During the 2013 campaign, Angelo Mathews was the captain. He had wanted the services of a batsman instead of an all-rounder, as he had assured that he would bowl 10 overs in a game, which would omit a need of a bowler. Although other all-rounders were given a chance, I was the only one who was ignored. The captain plays a big role in the team selection process and I believe that I had been deprived of a chance of playing. SLC didn't approach me for a recall and thus I came into this conclusion."
Having made his ODI debut in 2005 against India at Dambulla, injuries became his nemesis as he was dropped from the first XI squad before the end of the year. His T20 debut came in 2008, where he featured in 2 games in the Canada Cup Four Nation T20 tournament, which turned out to be his only T20 international games.
He didn't make a return until 2013 where he was called in for a tri-nation series tournament, where he featured in a single match, which incidentally went on to be his last ODI.
He was recalled to play instead of Chanaka Welegedara in the Champions Trophy the same year, after the fast bowler had picked up an injury midway in the tournament. He was also recalled in to fill in the gap of Thisara Perera, but didn't feature in any game in the tri-nation series against India and the West Indies. (Shannon Nicholas)