---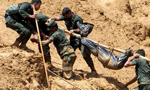 The number of deaths caused by floods and landslides increased to 82 while 118 individuals have been reported missing, the Disaster Management Centre (DMC) said today.
According to the DMC 242,927 people of 57,590 families were affected by the recent weather. The Center also said that 29 were injured.
Kegalle District reported the most number of deaths (48), with 30 dead in Aranayke and 14 more in Bulathkohupitiya. Eight deaths were reported from Gampaha and five from Colombo.
The DMC said 22 districts had been affected by the adverse weather last week.