---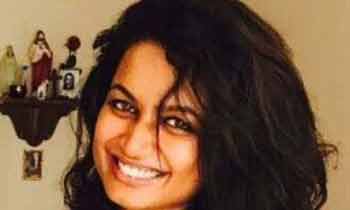 The body of a 26-year-old woman, who was hacked to death in her bedroom in a three storey house on Thursday, was recovered last morning, police said.
They said the deceased Tharindi Aloka was the eldest daughter of a billionaire businessman in Kottawa.
A senior police officer in the Nugegoda Division said the victim had been killed between 9 a.m. and 11a.m. on Thursday when she was alone in the house.
Police said a young businessman in the Southern Province who often visited her had wooed her but she had not consented. They suspect the businessman for the killing.
Investigations revealed that the parents of the victim had been in their business establishment adjacent to the house at the time of the incident. The parents said Tharindi planned of going abroad after completing a beautician course.
Meanwhile, the sister of the deceased said she found her elder sister lying in a pool of blood in her room when she returned home from school.
Police personnel from Mirihana and Kottawa are conducting investigations on the instructions of ASP Krishantha Jayawardene and SP Prasad Ranasinghe. (Buddhika Kumarasiri)