---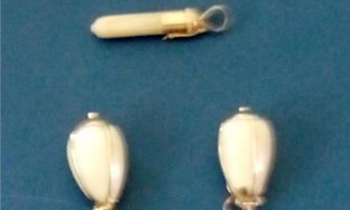 Two Grama Niladharis were arrested on charges of being in possession of three ivory pendants during a raid on a house at Polpithigama.
The Polpithigama Police said the arrests were made on a tip off received by the Nikaweratiya Division Intelligence Unit.
They said suspects, one of whom was 32 and the other 43, were residents of Ma-Eliya and Makulpotha and would be produced in the Mahawa Magistrate's Court shortly.
The police said they launched investigations after the Walana- Panadura Anti-Vice Striking Unit had recovered a pair of elephant tusks and an ivory gemstone also known as gaja muthu from the possession of two suspects on November 23. One of the suspects was a Grama Niladhari.
Investigations had revealed that the tusks and the gaja muthu were removed from the Galgamuwe tusker better known as the Dala Poottuwa.
On Friday, the Police arrested five people on suspicion of being involved in the killing of this majestic tusker. (Darshana Sanjeewa)