---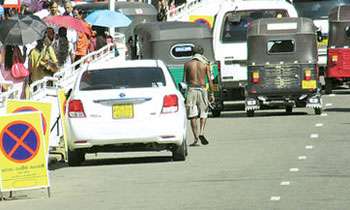 Vehicles parked on pavements blocking traffic and pavements would be towed away, the Police said today.
They said that they would take action to remove the vehicles which were parked along the road in main cities blocking roads or parked on pavements during the festival session.
They said it had been observed that most of the drivers, who had come to main cities across the country especially during the festival session, used to park their vehicles along the main roads and blocking the pavements.
They said unnecessary traffic congestion had been reported most of the time due to authorized parking, causing inconvenience to the public.
Police said action would be taken against motorists from the Police Stations across the country as legal provision had been granted under the Motor Traffic Act No 40 of 1984.
Section 167 (4) of the Act states: "Where in the opinion of a police officer any obstruction is caused to traffic on any highway or public sidewalk by a motor vehicle halted, or parked on a highway, or by any object, thing or material, such police officer may cause the motor vehicle causing such obstruction or such other object, thing or material to be removed and charge the cost of such removal to the owner".
According to Section 167 (5); "No police officer shall be held liable in damage for any damage caused in good faith in the course of the removal of a motor vehicle, object, thing or material under subsection (4)."(Darshana Sanjeewa)