---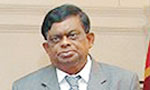 The Colombo High Court today abated the case in which former Supreme Court Justice, the late Sarath de Abrew, who was indicted for sexually abusing his female servant, since the accused is no longer alive.
Former Supreme Court Judge Justice Sarath de Abrew had died following an accident at his residence on August 15, 2016.
Abating the proceedings of the case, High Court Judge Nisaanka Bandula Karunaratne, considering the legal concept of that no one is guilty until proven, observed that prosecution had not proven the allegations put forward against former SC Justice beyond reasonable doubt yet, therefore, he was still an innocent individual.
Meanwhile, the Counsel, who appeared on behalf of the former Justice's daughter, sought the court to advise prosecution to withdraw indictments on basis that the accused was no longer alive.
However, State Counsel Udara Karunaratne, who appeared for the Attorney General said that there was no provision in law to withdraw indictments based on accused's death during the proceedings.
"The Attorney General withdraws indictments, when sufficient prosecution evidence are not in place or missing during the proceedings or otherwise in such instances the Court is allowed to conclude the case proceedings upon the death of the accused," he said.
The AG had earlier indicted the accused on two counts over sexually abusing his 38-year-old maid on or around June 16, 2015 in Ratmalana under section 365(a)(2) of the Penal Code. (Shehan Chamika Silva and Farook Thajudeen)