---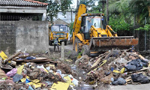 More than 6,000 tonnes of garbage had been collected from flood affected areas in Colombo for the last four days, the Ministry of Provincial Councils and Local Government said today.
The ministry said most of the garbage had been collected from Kotikawatta, Kolonnawa, Meethotamulla, Sedawatte, Kohilawatte and Wellampitiya had dumped onto a land situated in Kolonnawa.
It said the removal of garbage piling up in flood affected areas had commenced on Wednesday (01) and an operating centre had also been established at the T. B. Ilangarathna Stadium, Angoda.
More than 100 vehicles including garbage collecting machines have been used in this process and the debris of houses and garbage that had collected on the sides of the roads were also collected.