---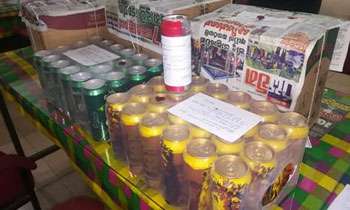 A Chinese owned karaoke den cum restaurant in the close proximity to a leading girl's school in Colombo 07, that did not bear a valid liquor permit was raided by Colombo Excise Station officials recently for selling liquor only to its Chinese customers.
The Excise officials following a probe based on information learnt that the Chinese karaoke restaurant had continued to sell alcoholic beverages since their Excise license was not renewed for 2018 over public displeasure owing to the place it is located.
According to Excise sources, the restaurant which is owned by a Chinese national couple settled in Sri Lanka has been continuing to sell liquor only to their Chinese customers in a discrete manner since the license was not renewed from January this year.
Although, the restaurant located close to the Pittala Junction is entertaining local guests the benefit of serving alcoholic beverages had been limited only to the Chinese customers, who were mainly attracted from Chinese expatriate community that engage in Colombo Port City projects, the Excise sources said.
Since this was the case, it had been tricky for the Excise sleuths to send an undercover agent inside the said restaurant as non Chinese nationals were served liquor.
However, following a lengthy probe the Colombo Excise Station officials managed to arrest the local employee in charge of the bar of the restaurant in the act of issuing liquor and up on inquiry had failed to produce a valid permit.
OIC Colombo Excise Station Chief Inspector Chanaka Nanayakkara is conducting investigations with Excise Inspector Indralal Mahawatte and Excise Guards Hemantha Dissanayake, Lahiru Kodagoda, Nilantha Rajapaksa and Nihal Perera on the instructions of Assistant Excise Commissioner B. A. Dayaratne (Western Province) and Excise Superintendent Colombo Vijitha Gamanayake.
The sleuths also seized 121 cans of beer from the restaurant stocks. The arrested employee had been released on Excise bail and would be produced before the Maligakanda Magistrate today along with the seized stock of liquor. (Kurulu Koojana Kariyakarawana)