---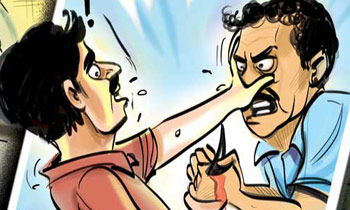 The China National Machinery Import and Export Corporation engaged in the extension work on the Matara-Beliatta railway line has sought police protection after a man who broke into the room of one of its employees had slashed him with a knife before getting away on Saturday morning.
Project manager Gu Feng said the company was seriously concerned about the safety of its 2,300 employees of whom 380 were Chinese. He said the employees had been attacked by villagers and underworld gangsters even on previous occasions. Mr. Feng said the gangsters often demanded fuel and those who ignored their demands were assaulted and that the guards from the private security firms were unable to deal with the gangsters.
The latest incident occurred about 4.00 am on Saturday when a 31-year old employee, Zhang Fei who heads the team of surveyors was suddenly woken up to find a stranger in his room. "As there is hi tech survey equipment valued at more than Rs.3.5 million in his room he immediately grappled with the intruder. On hearing the commotion within the room his co-workers broke open the door and came to his assistance by which time the assailant had slashed Mr. Fei with a knife in a failed attempt to get away," Mr. Feng said. The man is suspected to have entered Mr. Fei's room through a window.
He was admitted to the emergency ward of the District General Hospital, Matara and had been working on the project since its inception in 2013. The assailant was overpowered and handed over to the Matara Police who are conducting further inquiries. (Priyan de Silva)