---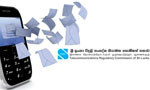 The Telecommunications Regulatory Commission of Sri Lanka has requested subscribers to check with their service providers and disconnect if there were any connections operating under their name without stipulated documents or explicit consent.

"It is necessary for the subscribers to inquire whether a mobile phone connection had been obtained by providing a copy of their NIC or any other relevant document without their consent and disconnect such connections through a relevant telephone service provider," the TRC said.
It informed all mobile phone subscribers to inquire and ascertain that service providers had all relevant documents of the subscriber, which required when applying for a mobile telephone connection.

On a newspaper advertisement, TRCSL Chairman said that paying close attention to these documents was essential as the owner of a SIM Card is responsible for all actions done through that particular SIM (Subscriber Identification Module).

"It is the responsibility of the applicant to submit relevant documents to the telephone service provider when applying for a mobile telephone connection. Mobile telephone subscribers should inquire whether the relevant documents are with their service provider," it said.

Further information could be obtained from the telephone service providers through Airtel: 1755, Dialog: 1777, Etisalat: 1727, Hutchinson: 1788 and Mobitel: 1717.