---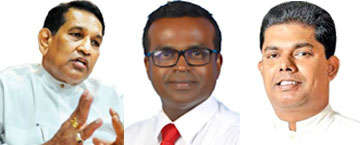 Three Ministers today justified the Government's move to seek Parliament approval to purchase luxury vehicles to various State and Cabinet Ministers and said Ministers need super luxury vehicles to travel to their electorate, various functions and ceremonies round the country.
Joint Cabinet Spokesmen Ministers Dr. Rajitha Senaratne and Gayantha Karunatileka and Deputy Minister Karunaratne Paranawithana answering a barrage of questions from journalists, who repeatedly asked Ministers the merit of allocating Government MPs to import SUVs such Land Cruisers, Outlanders, Hummers and super luxury cars like Mercedes Benz, BMW, Volvo, Jaguar and Audi, that cost between Rs. 50 million to Rs. 90 million each, they said the Government members needed those vehicles to attend to their work and travel thousands of kilometers round the country.
Media personnel questioned as to why the Government allocated this kind of money to import new vehicles for Government Ministers, while asking the public to tighten their belts to face an economic down-turn and to pay back a huge amount of foreign loans, obtained by the Rajapaksa regime.
The journalists collectively asked whether this was not a case of 'Making Hay While the Sun Shines' and charged that the Government has increased the tax on vehicles to increase the vehicle prices, while putting another burden on the already suffering people through VAT increase.
"Though the Government promised relief to purchase a family car to a middle class family, it is now beyond the reach of them and only a super rich can afford to buy a new or reconditioned vehicle," the journalists lamented.
Trying to explain the Government's position, Minister Senaratne said Ministers and Deputy Ministers needed super luxury vehicles to travel to their electorate, various functions and ceremonies round the country.
"Do not forget that politicians in other countries draw five to ten times of salaries drawn by Sri Lanka politicians. Politicians use low engine capacity vehicles in countries like Singapore and Maldives because they need not travel much far. In Sri Lanka we have to travel hundreds of kilometers and we need a comfortable vehicle for that," he stressed.
Minister Karunaratne said some Ministries had not purchased vehicles for 20 years and politicians would have to repay the loan granted to them to purchase vehicles under a Value Depreciation Formula (VDF) and after five years they could own the vehicle.
The Government on Tuesday sought Parliamentary approval for a supplementary estimate to cover Rs. 1.1 billion for the purchase of vehicles to various Cabinet and State Ministers. (Sandun A Jayasekera)
Video by Richan