---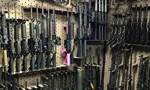 The Cabinet approved the building of an armoury complex to international standards and specifications in Oyamaduwa Anuradhapura.
Ammunition and explosives belonging to the Military were stored temporarily in various parts of the island during the conflict.
According the communiqué the decision was made giving regard to the low density in population in the area.
President Maithripala Sirisena, in his capacity as the Minister of Defense had made the proposal for the shifting of the storage of ammunition and explosives to Oyamaduwa.
Video by Janaka