---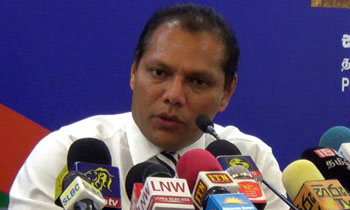 Northern Province Chief Minister C. V. Wigneswaran had become nothing but a ghost, who instigated disharmony between the Tamil and Sinhala communities in the country, Minister Dayasiri Jayasekara said today.
Addressing the weekly Sri Lanka Freedom Party (SLFP) media briefing, the Sports Minister requested Tamil people in the North to come forward against the Chief Minister's racist statements, which posed a threat to national harmony.
He said law makers couldn't come forward and speak of power devolution concerning the North, due to the racist statements made by the Chief Minister.
"Wigneswaran is making statements which are harmful to national harmony," he said.
"He is trying to convey a message to the international community saying that power devolution is not an option for Sri Lanka because of the Sinhala people. But the Chief Minister doesn't think about the harm he is causing to the country because of his statements," he said.
"Mr. Wigneswaran has joined hands with the LTTE, its sympathizers and NGOs, to destroy the country's harmony," Minister Jayasekara said.
"Hence as Ministers we cannot come forward as people with backbones, because we have to think twice before making statements about power devolution," the Minister added. (Chaturanga Pradeep)