---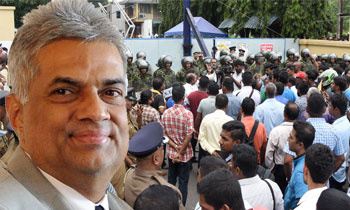 The Ceylon Petroleum Corporation (CPC) trade unions have stopped work at a time the country is facing a critical situation when the government and others are making a joint effort to curb the spread of dengue, Prime Minister Ranil Wickremesinghe told Parliament yesterday.
"Even the media has stopped competing with each other to fight the spread of dengue, as the time has come for everyone to play a role to fulfil their duty to the nation," he said. "Several important services such as the health service including the transport of hospital staff, operation of ambulances, power generation in hospitals and the public transport sector will be disrupted if the fuel distribution comes to a standstill."
The Prime Minister said the security forces would be involved in safeguarding the fuel storage tanks and the access roads to those locations as soon as the gazette notification to declare fuel distribution as an essential service was issued.
"The government received information that there was a move to commit serious acts of sabotage within the CPC premises, while there have been reports of a few minor incidents," he said.
The Prime Minister said fuel distribution had returned to normal and fuel bowsers were leaving the storage points at the time he was making the statement in the House.
"The government is committed towards safeguarding democracy and upholding human rights. It respects the law and judiciary. However the government is not prepared to surrender to mischievous elements who are out to disrupt peace and destroy democratic values," he said. (Yohan Perera and Ajith Siriwardana)