---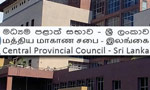 The Central Provincial Council had allocated Rs. 15 million for a seven-day tour in Russia by all 58 members of the council and seven officials, including the Chief Secretary of the Council T.M.K. Bandara Tennakoon , Council sources said.
The tour will be undertaken in two batches. The first batch would leave for Kremlin tomorrow, an official said.
The second batch, which would include the Chief Minister of the Council Sarath Ekanayake, is to leave the country on October 5.
A leading bank in Kandy had already transferred $ 51,655 for this tour.
The members and the officials will stay at a hotel in Katunayake, where the delegates would be hosted to a dinner before they left for Russia, the official said.
However, the members of the group have expressed their displeasure over the charging of $1,545 from each person for facilities. (J.A.L.Jayasinghe)