---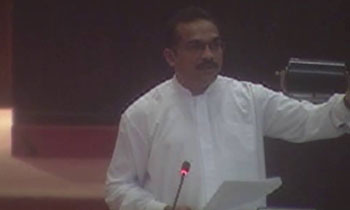 It has been uncovered by the Committee on Public Enterprises (COPE) that there has been a fraud involved in cancellation of the lease of aircraft for Srilankan Airlines, MP Bimal Ratnayake told Parliament yesterday.
Speaking during the committee stage debate on the budget, Mr Ratnayake who is also a COPE member, said the committee is yet to determine the extent of the fraud.
"The fraud could be Dollars 50 million or might be even higher as 100 million dollars" the MP said.
"Both the present government and the last have robbed the national carrier. One government sold the airline and robbed from the deal while a successive government tried to show it is taking patriotic move to acquire Srilankan but also robbed from the deal. More frauds were involved in leasing aircraft and finally there has been a fraud in cancelling the deal, " Mr Ratnayake added.
He said no government had been able to maintain the national carrier. "The two main political parties which has governed the country has failed to maintain the Srilankan Airlines".
He charged that the current head of the national carrier had also failed to reverse the situation though he is paid a salary of Rs. 7 million per month. (Yohan Perera and Ajith Siriwardana)