---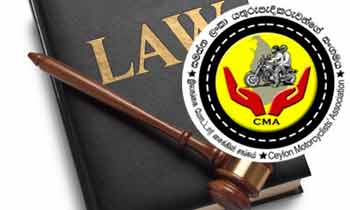 While sending a letter to the Chief Justice, the Ceylon Motorcyclists' Association (CMA) has requested to implement a practical system to ensure the safety of the motorcycles that are temporally impounded by the Police Department.
CMA Secretary Chirantha Amarasinghe said due to the negligence of the Police Department, the motorcycles that are held in custody get dilapidated due to delays in the law enforcement.
Speaking to Daily Mirror he also said the Association learnt that there is an ongoing malpractice as some valuable parts of motorcycles get lost or damaged while being in police custody.
It was reported that the these malpractices take place to Japanese made valuable motorcycles. "We suspect that the police officers are involved in the racket with the support of the non-standard motorcycle sellers in the country," he said.
Mr. Amarasinghe said the lack of protection provided to court evidences by the police has also resulted in this.
Meanwhile, Mr. Amarasinghe has proposed for the court to implement a rule to take photographs, motorcycle details, modifications and its conditions to avoid these malpractices at the police station.
He also requested to court for the police to pay cost of damage to the owner of the motorcycle if the motorcycle parts get lost or damaged when it is held in police custody. (Thilanka Kanakarathna)