---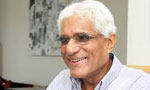 Probes will take place shortly of the alleged leakage of confidential information from the Central Bank, informed sources said yesterday.
One investigation would be conducted by the CID, with Central Bank Governor Dr. Indrajith Coomaraswamy requesting such an investigation; while the other would be conducted by a committee which the Prime Minister is expected to appoint.
Sources from the Prime Minister's office said Mr Wickremesinghe is expected to appoint a committee after he returns from Belgium next week. He is also expected to meet Central Bank officials.
The Prime Minister is of the opinion that such acts would tarnish the image of Sri Lanka. It is learnt that some international monetary institutions have expressed fears. (Yohan Perera)