---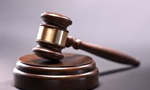 Mohammed Nasli, the 35-year-old businessman from Bandaragama, has been remanded till September 13 by Trincomalee Magistrate S. Swarnaraja today.
He was reported missing in Trincomalee and his father had complained to the Bandaragama Police that his son was missing since Sunday.
In his complaint, the complainant said his son and three others had left for Trincomalee on Saturday to attend a gold auction to be held the next day.
However, the police arrested the Businessman in Balangoda this morning.