---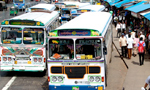 The island wide private bus strike which was scheduled from midnight tonight has been called off, the All Island Private Bus Company Federation (AIPBCF) said.
Several private bus owner unions had earlier called an islandwide strike, scheduled to commence midnight today over the revision of fares.
The unions demanded a 15 percent bus fare increase.
AIPBCF General Secretary Anjana Priyanjith said the members of the unions had met President Maithripala Sirisena this morning and had discussed the matter.
"We called off the strike after the President assured that he would look into the matter within three days", he said.
The Lanka Private Bus Owners Association (LPBOA) Chairman Gemunu Wijeratne said the unions agreed to call off the strike as the discussion held with President was successful.
"The President acknowledged that bus fares should be revised," he said.
Mr. Wijeratne said another meeting would be held next week with President, the Prime Minister and the Transport Minister.
Video by Buddhi