---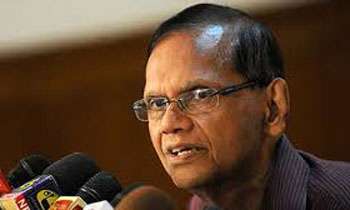 In response to investigations against British MPs including Ian Paisley by the House of Commons over his visit to Sri Lanka during the former rule, then External Affairs Minister Prof.G.L. Peiris said today that the government of former President Mahinda Rajapaksa had to invite such MPs to see for themselves the actual ground situation in the country.
Prof. Peiris said the then government did so to counter adverse propaganda being carried out by the pro-LTTE elements.
He said two important personages, British Foreign Secretary David Miliband and French Foreign Minister Bernard Kouchner, had asked President Rajapaksa to stop the war on terror, but the government resisted such pressure and concluded the war successfully.
However, Prof. Peiris, who is the Chairman of Sri Lanka Podujana Peramuna (SLPP), said there were still formidable challenges for Sri Lanka in the international arena, even after the war was over.
The establishment of the Provisional Transnational Government of Tamil Eelam was cited by him as an example to this effect.
During the time of the referendum in Britain on the move to quit the European Union, he said the organization called 'Tamils for Conservatives' wrote to the then British Prime Minister David Cameron pledging electoral support in that country, in return for his assistance for them to win over the rights of Tamils in Sri Lanka .
He said he strongly protested over the response of Mr. Cameron.
"Tamil organizations were on a massive campaign to spread misinformation. We had to counter it," he said.
Against this backdrop, he said the government invited British MPs to see for themselves the ground situation here. He added that the British MP had been questioned not over his invitation to Sri Lanka, but over the failure to fulfil his reporting obligation.
Responding to UNP MPs questioning him over the invitation, Prof. Peiris said his position was explicit and categorical.
"We have one aim and objective. That is to protect Sri Lanka and the armed forces," he said.
Prof. Peiris questioned the present government inviting the head of the Global Tamil Forum S.J. Emmanuel to Sri Lanka. (Kelum Bandara)
Video by Sanjeewa