---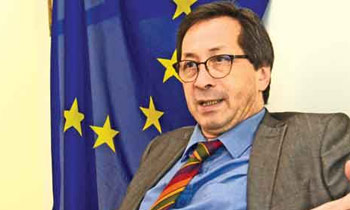 Sri Lanka would benefit immensely if it focused on accessing non-traditional markets of the European Union (EU) countries which would reduce the potential negative impact of Brexit on Sri Lanka, Ambassador of the Delegation of the EU, Tung Lai Margue said yesterday.
Delivering a speech at the National Symposium to develop a National Export Strategy, the Ambassador said accessing non-traditional EU markets would also help contribute towards Sri Lanka's ambitious target of doubling its exports revenue.
"If Sri Lanka is to substantially increase its export revenues as it wishes to, then diversifying to new sectors is the key to success. Among the EU countries the UK is currently an important market for Sri Lanka and with Brexit becoming a reality, the country should focus on other EU markets which will help cushion the potential negative impact of Brexit," he said.
Commenting on the Sri Lanka's re-application for GSP+ last year, the Ambassador said the European Commission had given its positive assessment in January this year and we are now awaiting the approval by the European Parliament and Council of this assessment which will happen by mid-May this year.
He said GSP+ has the potential to benefit the country far beyond zero duty access to the EU, if utilised creatively,
"The rules of origin criteria that needs to complied with to qualify for GSP+ requires that majority of the raw material and other inputs need to be of local origin giving opportunities for new companies to become suppliers to the existing manufacturing businesses and spurring more economic activity and creation of jobs in Sri Lanka. The country will also be able to attract foreign investors to set up manufacturing operations to export to the EU and benefit from zero duty access," he said.
At a time where worrying protectionism and nationalistic approaches are developing, Ambassador Margue said the EU on the contrary will continue to encourage multilateralism, fair trade and international rules based cooperation.
"It will also continue to support developing countries and expand its cooperation with middle income countries, such as Sri Lanka," he said.
The symposium which will pave the way in designing a National Export Strategy for Sri Lanka is an initiative funded through the EU-Sri Lanka Trade Related Assistance project - an 8 million Euro project that is the result of a request made by the Sri Lankan Government, at the EU-Sri Lanka Joint Commission in Brussels. (Lahiru Pothmulla)