---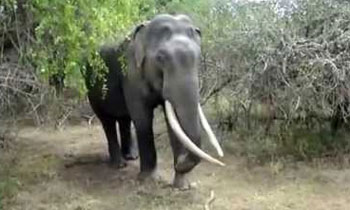 A body of a tusker suspected to be 'Dala Poottuwa' (crossed tusks) had been recovered by the Special Task Force (STF) at Kahalla-Pallekele Sanctuary in Thabbowa this afternoon.
Speaking to Daily Mirror, Wildlife Conservation Department Deputy Director Manjula Amararathna said the tusker's body had been identified by the Department's Veterinarians (who treated the animal before) as the Dala Poottuwa.
"However, a postmortem to be conducted tomorrow to determine whether it is the body of Dala Poottuwa," he said.
In addition to the STF, five groups comprising wildlife officers and the police commenced search operation within the Galgamuwa range where the tusker was last spotted.
Two suspects aged 32 and 40 ,who are residents of Galgamuwa and Moragollagama, were earlier arrested by the Walana Anti-Corruption Unit last Thursday (23) with a pair of elephant tusks and ivory organic gemstones (Gaja Muthu). (By Darshana Sanjeewa and Hiran Priyankara)