---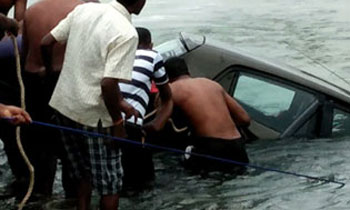 The body of the 29-year-old man, who went missing when a car toppled into the Viyana Canal on the Badulla- Mahiyangana Road yesterday, has been recovered this morning.
The victim was identified as Nalin Kariyawasam, a teacher of the Tissapura Vidyalaya in Mahiyanganaya.
The body was found floating near Orubandiwewa, some eight kilometers away from the place of the accident.
Three individuals including a woman were rescued soon after the accident occurred last morning. (Nishantha Kumara)