---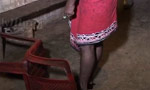 The bodies of a 36-year-old soldier and a woman were found at a house in Dedigama in Kegalle today, the Police said.
The man's body was found hanging and the woman's body was found with signs of strangulation.
Police suspects the man had strangled the woman to death before hanging himself on a beam on the roof. The Police said the crime must have taken place on Monday night following a dispute between the two.
Video and Tex by Salaiya Gamasinghearachchi