---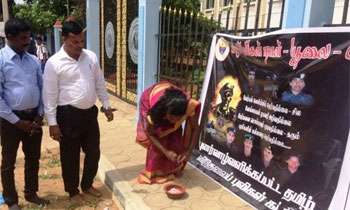 The Black Tiger Day had been reportedly celebrated in several areas in Jaffna and Kilinochchi Districts today by displaying the logo of the LTTE.
According to the security officials in Akkarayankulam, the LTTE logo has been painted at the Skandapuram bus terminal and near a temple to mark the Black Tiger Day which falls on July 5.
Paintings of the LTTE logo and Eelam map had also been found on several roads and walls in the area.
Police said investigation are underway to identify the individuals involved.( Romesh Madushanka)