---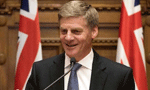 New Zealand's ruling National Party appointed the experienced Bill English as the country's new prime minister on Monday following last week's shock resignation of his popular predecessor John Key.
The centre-right National Party caucus met to confirm the decision on Monday morning, with English to be officially sworn in at Government House in Wellington later in the day.
State Services Minister Paula Bennett was named as deputy prime minister.
"Bill and Paula are outstanding leaders who will provide a good mixture of experience and fresh thinking," said party president Peter Goodfellow.
"Under their leadership, New Zealanders will continue to benefit from the stable government they expect, along with a dedicated focus on delivering results for families and businesses."
He added that with Mr English at the helm the party would remain committed to "growing the economy, creating jobs, and allowing the government to invest in world-class services like schools, healthcare and infrastructure".
Mr English, 54, was Mr Key's preferred candidate to succeed him after serving under him as finance minister and returning New Zealand's budget to a surplus.
A farmer with degrees in commerce and literature, he has been in parliament since 1990 and was previously leader of the National Party in 2002 when it suffered its worst election defeat.
"You learn more from losing than you do from winning," said Mr English, who will go to the polls in late 2017 seeking the National's fourth straight election win.
Mr English said New Zealand's prosperity, with an economy growing at about three percent, meant the country did not have the pool of disaffected voters responsible for Brexit and US President-elect Donald Trump's victory.
And he said a priority for his government was ensuring the most needy were given opportunities.
"We have a strong economy, almost unique in the developed world, and most New Zealanders would expect to be able to share in that," he said.
A committed Catholic with six children, Mr English is regarded as far more socially conservative than Mr Key, opposing the 2013 legalisation of same-sex marriage and speaking out against abortion and voluntary euthanasia.(AFP)