---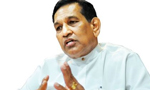 Prof. Senaka Bibile Commemorative Association (SBCA) today said they would take legal action against Health Minister Rajitha Senaratne for allegedly sabotaging work of the National Medicinal Regulatory Authority (NMRA), in support of multinational pharmaceutical companies.
National Organiser of the SBCA Dr. Jayantha Bandara told a media briefing yesterday that they would file a case in court against the Health Minister for his actions, which he said had violated the terms of the National Medicines Regulatory Authority Act.
"Two eminent medical professionals, Prof. Lal Jayakody, Head of the Department of Pharmacology at the Colombo University and Prof. Krishantha Weerasuriya, South Asian Drug Policy Advisor to the World Health Organisation, who were serving as the NMRA's Chairman and Chief Executive Officer respectively were asked to step down by the Health Minister.
"He did so because the two medical professionals were a threat to multinational pharmaceutical companies, because they introduced new regulations to control the prices of medicine for the betterment of innocent patients," Dr. Bandara said.
He claimed that Professor of Clinical Pharmacology, Kelaniya University, Prof. Asitha De Silva, who is also a director of a multinational pharmaceutical company, was tipped to take office as Chairman of the NMRA, following the decision of the Health Minister.
Dr. Bandara said there was clear evidence to prove that Prof. Asitha De Silva dealt with a particular company, where he was holding a director post, during clinical trials of the Department of Clinical Pharmacology, Kelaniya University.
He said two more persons had been appointed to two sections of the NMRA, despite they are from fields different from the appointed sections. (Piyumi Fonseka)