---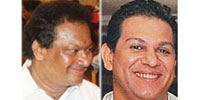 The judgement over the case filed against 13 accused including former Parliamentarian Duminda Silva for the killing of four persons including Bharatha Laksman Premachandra will be delivered tomorrow.
The case has been continued for over one and half years.
The judgement will be given by a special panel of High Court Judges including Shiran Gunaratne (Chairman), Padmini Ranawaka and M. C. B. S. Morayas.
The Attorney General has indicted the accused as a result of the killing four persons including Bharatha Laksman Premachandra, three of them were the security guards of Bharatha Laksman Premachandra on October 8, 2011 or closer date in Angoda area at the Western Provincial Council Election Day. (Manopriya Gunasekera)