---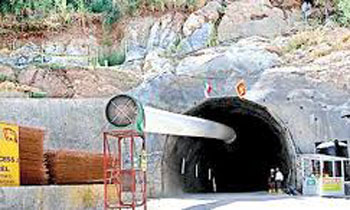 The cause for the cracks in the Bandarawela area was the use of the low quality excavation equipment in the Uma Oya Project, SLFP organiser and Vocational Training and Skills Development Minister Mahinda Samarasinghe said today.
Responding a question at a news briefing held at the Sri Lanka Freedom Party (SLFP) Head Quarters he said foreign experts who advised on the project had expressed that the cracks had been created due to use of low-quality and unsuitable equipment.
"The low-quality excavation equipment had cause more vibrations than the ground could sustain and that had resulted in the fissures and cracks in the houses in the area," he said.
President Maithripala Sirisena and Prime Minster Ranil Wickremesinghe had decided to appoint a Select Committee in Parliament to investigate the issues.
"After appointing the Select Committee, they can use Parliamentary Privileges to call the persons who were responsible for the project. From that we would be able to produce a report to Parliament that people could know," Samarasinghe said.
"In fact people should be made aware of what happened during the project. The Government had spent a huge sum and it cannot be stopped but we have to fix the issue by using suitable technology," he said. (Chaturanga Pradeep)