---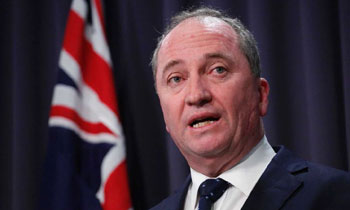 Australia's Deputy Prime Minister Barnaby Joyce has been removed from parliament for being a New Zealander, putting the government's majority at risk.
Joyce was one of five lawmakers ruled ineligible Friday by the High Court in Canberra, but the only one from the lower house.
The Australian constitution bars citizens of foreign countries from serving in parliament. Joyce claimed he wasn't aware he held New Zealand citizenship and has since renounced it.
Joyce's removal sparks a by-election, to be held on December 2, endangering Prime Minister Malcolm Turnbull's one-seat parliamentary majority and putting it at risk of an opposition-led vote of no confidence, which could spark a general election.
"It's a pretty simple story, we're off to a by-election (and) I put myself forward to the people of New England as a candidate," Joyce told reporters in his constituency, a rural part of eastern Australia, and north of Sydney.
"I had no reason to believe I was a citizen of any other country but Australia."
Speaking Friday, Turnbull said it was "clearly not the outcome we were hoping for" but denied that his government faces any instability in the absence of Joyce.
"We have the support of a majority of members," Turnbull said. A no-confidence vote would require all independent and crossbench lawmakers to turn against the government.