---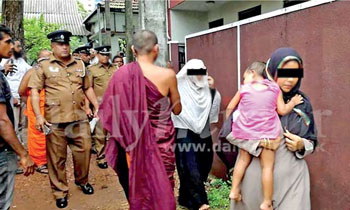 The Ven. Arambepola Rathanasara Thera who is wanted in connection with the Mount Lavinia attack on 31 Rohingya refugees was arrested today at Nittambuwa by a special team of police personnel.
Police spokesman Ruwan Gunasekara said the monk in a bus travelling from Kandy to Colombo when he was arrested on the direction of IGP Pujith Jayasundara after he received information as to the whereabouts of the monk.
The police recovered two NIC's which were in the monk's possession. One of NICs had been issued at the time he was a layman.
The Colombo Crimes Division (CCD) had earlier sought public assistance to locate the monk's whereabouts after he had gone into hiding soon after the mindless attack on the helpless refugees. SP Gunasekara said the monk was evading the arrest for nearly a month.
He said the Thera would be handed over to the CCD for further investigations and that action would be taken against who had helped the monk to evade arrest.
On an earlier occasion, the CCD arrested Ven. Akmeemana Dayarathana Thera and seven others including a woman and a police constable in connection with the Mount Lavinia attack. Dayarathana Thera and five others were granted bail while two others were remanded till October 30. (Darshana Sanjeewa)
Video by Buddhi