---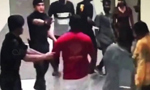 An appalling lack of security at the Kuala Lumpur Airport (KLIA) and a corrupt Malaysian administration are blamed for the brutal assault on the Sri Lankan High Commissioner in Malaysia, Ibrahim Sahib Ansar, by a group of local Indian Tamil radicals at airport on September 4.
Informed sources had told Indian Express that security at the KLIA is lax that anyone can enter it and go up to the immigration area without any security check of their person and bags. There is no concept of VVIP security to ensure that high risk individuals are protected against demonstrators, thugs or terrorists.
In fact the Sri Lankan envoy was beaten up by intruding thugs in the "No Entry" (High Security) area.
Envoy Ansar had alerted the police well in advance about a potential threat to Sri Lankan dignitaries in view of former President Mahinda Rajapaksa's visit to Kuala Lumpur to attend an international political parties' conference. But no special security systems were put in place.
A day before the assault on him at the airport, the Malaysian police had informed the envoy of a plan to throw petrol bombs at his residence. Security at the house was stepped up but only for a day. Subsequent to the attack on him on September 4, no security was given to him despite a specific request put in by the Sri Lankan government.