---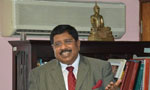 In the wake of the attack on the Sri Lankan Higher Commissioner in Malaysia by a group of LTTE sympathisers, the Foreign Affairs Ministry will summon the Malaysian envoy in Colombo today to raise the matter, a Deputy Minister said yesterday.
Deputy Foreign Affairs Minister Dr. Harsha de Silva told Daily Mirror the Sri Lankan government condemned this incident in the strongest possible terms. He said the Malaysian authorities were conducting investigations.
The Deputy Minister said the Malaysian envoy in Sri Lanka would be summoned to the Ministry this morning to register protest.
The Sri Lankan envoy met with the incident at the Kuala Lumpur International Airport when he arrived in to see Primary Industries Minister Daya Gamage, his spouse Deputy Minister Anoma Gamage and Joint Opposition's Parliamentary Group Leader Dinesh Gunawardane off.
Upon arrival in Sri Lanka, Mr. Gunawardane told Daily Mirror that the High Commissioner came up to the boarding gate of the relevant terminal to see all of them off.
"The flight with us on board took off at 3.25 pm. The High Commissioner was with us till 3.00 pm. After that, he left. As I know, he has been intercepted and assaulted within the open area of the airport. The High Commissioner, with the two other officials of the mission, has rushed to the VIP area to escape the assaults," he said.
He said the assault was serious as the High Commissioner was only discharging his legitimate duties. (Kelum Bandara)