---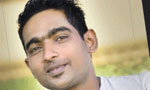 The second Judicial Medical Officer's (JMO) report on Sumith Prasanna Jayawardane's death at Embilipitiya during a clash with the Police had revealed that his death was due to excessive bleeding and not because of injuries caused by being assaulted or being pushed.
Counsel Anuja Premaratne, appearing for former Embilipitiya Police ASP C. Dharmaratne, conveyed this to Embilipitiya High Court Judge Kumari Abeyratne today.
He said according to the report, the injuries were identified as cut injuries and these injuries could happen when attempting to go through a glass door.
Earlier, the JMO report prepared by Ratnapura Hospital's Medical Officer T.B. Gunatilake said Sumith Prasanna's death was due to severe shock caused by excessive bleeding from cut injuries. (Ajithlal Shantha Udaya)