---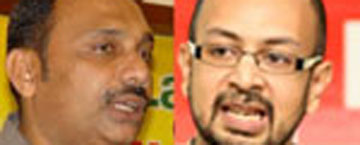 Responding to a statement made by SLMC Chairman Basheer Segu Dawood with regard to a 'separate Muslim State', the party's late founder M.H.M Ashraff's son Aman today said that his father's mandate was solely for a united Sri Lanka, undivided by any means.
During a discussion held in Kathankudy on Saturday, Mr. Dawood had said that the SLMC's stance was that the Muslims need a separate Province and the SLMC late founder too had endorsed it.
Writing a direct letter to the now SLMC Chairman, Aman requested him not to distort historical facts for his personal merit.
"During the early course of his political voyage, Mr. Ashraff said if and only if, the Tamils of Sri Lanka are granted a separate state unto themselves, then it is only fair that the Muslims of Sri Lanka also be granted one as well. However, his political views had changed over time," Aman said.
He said having being appointed as Minister for Ports, Shipping, Rehabilitation and Reconstruction, Mr. Ashraff addressed a gathering of the SLMC High Command and Politburo members at the Taj Samudra Hotel stating thus:
"As a party representing a minority in this country, we have reached the limits of our abilities. If we are to serve the nation and its people at a greater degree, we must then, now look to expand our horizons into national politics and aim to define a role for ourselves within.
Thus, he began to devote his career and time exclusively towards the formation of the National Unity Alliance (NUA) a pluralistic political entity whose mandate was solely for a UNITED Sri Lanka, undivided by any means.
You know this well, because you were one of the few who did not agree with this new and rapidly evolving political vision of Mr. Ashraff, which is why he did not appoint you to the High Command of the NUA.
He was well aware that you lacked the political maturity then (and still do now) to realise that a divided nation will forever be a defeated nation," Aman said.