---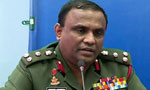 In the wake of increase in violent, the Army is working out measures to crackdown underworld criminals in collaboration with the police, Military Spokesman Brigadier Jayanath Jayaweera said.
The spokesman said the police would have to seek the military assistance when needed.
President Maithripala Sirisena speaking at an event in Narahenpita , Colombo on Sunday said that he had instructed Police and Security Forces to take necessary actions to eliminate underworld activities.
He had also personally spoken to the IGP, Southern and Western Provinces DIGs with regard to the recent gang related activities, the President said.
The Army Commander has also been instructed to take necessary measures to eradicate the menace and the Police and Army should implement joint programmes to eliminate the underworld activities, he said.
Several incidents in the past week has killed and injured both gang members and innocent civilians.
The Police Department has launched a number of programmes to eradicate serious crimes and drug rackets after an increase in underworld activities were reported in the past few days under the direction of the Senior DIG Pujith Jayasundara.
Police Special Task Force (STF) personnel would be prepared to stand-by at respectively STF bases to assist special operations when required.
Police said the Divisional Enforcement Team (DET) and Special Snap Road Bloc Systems would also be implemented by the police to eradicate the crimes in the Western Province. (Darshana Sanjeewa)