---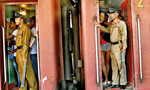 Armed Railway Security Officers were deployed to ensure the safety of train commuters as well as to protect the property of the Railways Department, a move that had commenced from Saturday (13), Railways Security Service Superintendent Anura Premaratna said.
This security measure had been taken following several incidents where stones had been pelted at moving trains injuring passengers and causing damage railways property.
In one such incident that occurred recently, a passenger, who was struck by a stray stone, thrown at a passing train, was killed while several others had also sustained injuries in separate incidents.
In the first phase of this new security measure, security officers would be posted on all Night Mail and Intercity trains in the country.
It was revealed that seven trains in total had been pelted with stones between August 3 to 14.
Transport Superintendent Vijaya Samarasinghe said that the glass shutters of several trains had been damaged as a result of the practice of pelting stones at trains.(Mahinda Nissanka)