---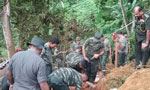 Search operations, at the landslide site of Samasara Hill in Aranayake, will continue amidst hopes for survivors gradually fading, Major General Sudantha Ranasinghe said today.
He said they were searching for 93 bodies and so far 27 bodies and 21 body parts had been recovered at the Aranayake landslide site.
Search operations in Bulathkohupitiya landslide site was concluded recently after the bodies of all those gone missing were discovered and accounted for.
"Taking into account the 27 bodies and the 21 body parts we have recovered make a total of 48 bodies, we have 95 more bodies yet to be recovered. Though there is the possibility of any survivors being found, the search operations will continue," the Maj. Gen. said.
He said the Disaster Management Centre (DMC) had issued landslides warnings to residents living in the vicinity of two mountains neighboring the Samasara Hill where the search operations are ongoing.
When inquired by Daily Mirror, Senior Manager of the Sri Lanka Red Cross Communications & Humanitarian Diplomacy, Mahieash Johnney said they would also participate in the search operations until all the missing are accounted for. (Piyumi Fonseka)